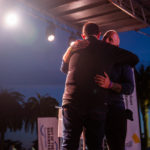 I have been thinking about this post for weeks, and I have wanted to write something organized and transformative about suicide, but sometimes life and stories don't work that way.
Earlier this month I attended the American Foundation for Suicide Prevention Out of the Darkness Overnight Walk in San Francisco. I volunteered to photograph the event this time. Three years ago I walked with my two children.
I don't know if the camera helps me connect or if it keeps me isolated.
There are two national walks each year. This year the walks were in San Francisco and Boston. Father's Day was on the weekend between the two walks. I lost my father to suicide the year I became a father. The last several weeks, I thought about him often, and I thought about what it means to be a father..
I was surprised this year that I struggled. I struggled to write.… Read the rest
---
---
---
---