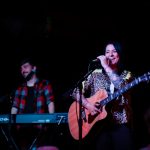 Last month I photographed English musician Lucy Spraggan.
Lucy performed at San Francisco's Bottom of the Hill; Tawnee Kendall and Amina Shareef Ali were also on the September 26, 2018 lineup.
Here are my photos of Lucy from the evening.
Lisa is much more popular in England than she is in the United States. After Lucy played San Francisco, she returned home to larger venues. Those of us who saw her perform on the west coast were fortunate to watch her in an intimate setting. Last month in San Francisco, the small venue was not full.
This week, Spraggan sold out much larger venues during her UK tour.
In an earlier decade, San Francisco might have welcomed Spraggan enthusiastically. I still don't know the reasons that her Bay Area concert was not better attended. Has San Francisco changed or has the world changed? Spraggan visited during Dreamforce, an annual Salesforce conference.… Read the rest
---