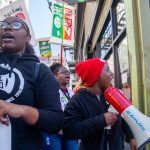 Oh District, my District.
It's been said that if the people lead, the leaders will follow… but what happens if they don't. What happens if the young people pick up a megaphone and the district does not answer the call?
During the seven day Oakland Education Association strike, students often led protests and rallies. The students were inspiring. They reminded many of us why we teach. On Monday, March 4th, the Oakland Unified Board of Education reminded many of us why we lose confidence in our educational leaders.
See links to galleries at the end of this post.
Day 3 – Marching on Broadway
If not for the support of the students and community members, the Oakland Unified School District would not have agreed to the pay raises for the teachers. If not for the teacher pay raises, the district would not have cut programs… at least that was the argument when the school board voted to cut popular programs earlier this week.… Read the rest
---
One of my photography students recently asked me, "Are you a teacher or a photographer?"
I am a teacher. I have always felt that I was a teacher, although I am photographer and a student too. Often when I look through my photographs, I am surprised by my ability to take a decent picture. I am even more surprised when I reflect on my journey as a teacher and a student. I am not always the best teacher … and sometimes I can take 20 years to learn the simplest lessons. This post is a tribute to two of my mentors. I wish I had applied some of their lessons earlier.
About twenty years ago, I graduated from UC Santa Barbara with a Women's Studies degree. I believe that I was the first male to major in Women's Studies at UCSB. I was also a peer health educator for the Women's Center's Rape Prevention Education Program.… Read the rest
---