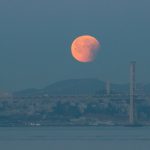 If you live in North America, you may have missed the total lunar eclipse last weekend. The eclipse was visible throughout the rest of the world and it was also the longest total eclipse of the century.
Six months ago, my children and I viewed a total lunar eclipse near our Bay Area home. We spent the night on the deck of the USS Hornet. The USS Hornet Sea, Air & Space Museum hosted a "Blue Moon, Super Moon and Lunar Eclipse" viewing party on January 30-31.
A "Blue Moon" and "Super Moon" might sound exciting, but the total lunar eclipse happened at night. It might not have been the longest eclipse of the century, but we still spent the entire night on the flight deck of an aircraft carrier in the San Francisco Bay. We were wet and cold and tired.
Most people slept underneath the deck or arrived in the middle of the night.… Read the rest
---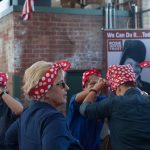 World War II ended seventy-one years ago today. Japan officially surrendered on the USS Missouri a couple weeks later, so some people might consider September 2, 1945 as the official VJ Day. This discrepancy is just one small example of the problems with writing history. Even when the victor writes history, the stories are not simple to tell. For this post, I visited two parts of World War II history that are often oversimplified.
My father was born in a small Texas town on October 7, 1940. Fourteen months later, Pearl Harbor was bombed. My grandfather was drafted; he served stateside near St. Louis. My father and grandmother lived in Oklahoma.
My grandmother never graduated high school, but she understood history. She saved news clippings. She explained which countries fought for the Allies and the Axis. She knew Europe and Asia, though she never traveled off the continent. She hated and feared the enemy… and if the enemy had ever met my grandmother, they would have feared her too.… Read the rest
---