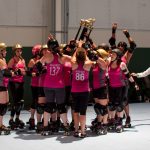 "If the Good Lord had intended us to walk, he wouldn't have invented roller skates." (from Willy Wonka and the Chocolate Factory)
On Saturday, two teams skated in circles and one team would be able to hold a trophy at the end of the bout.
Last year the Berkeley Resistance won. This year they won again.
Rocket Dog Rescue also attended the Bay Area Derby Championships. Rocket Dog Rescue attended two years ago. This leads other related questions. If God had wanted us to be alone, would he or she have created dogs? (Or if God had wanted dogs to be alone, would humans have been created?)
So, walk this way and view the two galleries from #BADchamps2016. I recommend that you play a Gene Wilder movie in the background.
Richmond v San Francisco 3rd Place
Since the Bay Area Derby championships, Gene Wilder died.… Read the rest
---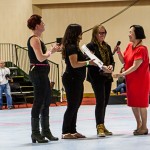 Earlier this month, the Bay Area Derby Girls All-Star team hosted the roller derby club from Montreal. The Golden Girls defeated The New Skids on the Block 217-122 at the Oakland Convention Center.
During half-time, Oakland's Mayor Jean Quan proclaimed May 11, 2013 as "Bay Area Derby Girls Day" for the entire city. I have known Mayor Quan since she served on the school board (and later as my City Council Member). I have always been impressed with her visibility at community events. At derby, I was impressed by her ability to adapt. She pronounced the San Francisco ShEvil Dead's name correctly. She asked questions and talked about her mother attending derby.
Mayor Quan also got close to the floor and photographed action. I think she is ready for her own derby photography persona. (She can probably have mine since I am not really using it.) After the bout, she spoke to reporters and fans.… Read the rest
---