San Marin High School Football Season Ends Short of First Section Title
Two years ago, I taught multimedia at San Marin High School in Novato, California. I love teaching and I loved the San Marin community. I was especially fortunate that the year I worked at San Marin, the boys basketball team won its first NCS Section Championship in school history and the baseball team shared a section title. (The shared baseball championship might be the only one in California history.)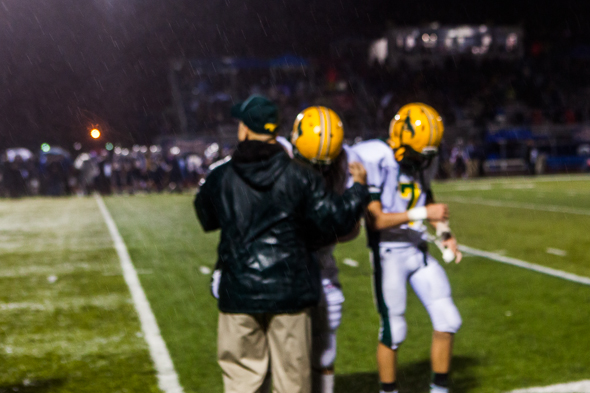 Some of my former students play on this year's San Marin High School football team. The Mustangs started the season slowly. When the playoffs began, the team started winning. On Friday, the football team almost won the school's first North Coast Section football title.
Almost.
(A Link to the entire photo gallery is here)
Instead, the Justin-Siena Braves defeated the San Marin High Mustangs 27-13 to win the 2012 North Coast Section Division 4 Football Championship at Dodd Stadium in Napa, California. The contest was closer than the final score.
When the game ended, San Marin coaches consoled their players while the Justin-Siena fans celebrated on their home field. While I hoped for a different conclusion for my former students, I was proud of the coaches and players. Defeat reveals a great deal about a team's character, and this team showed more character than most winning teams.
The weather was horrible Friday and anyone who remained through the rain and wind proved their loyalty. Justin-Siena fans were respectful and this is not a critique of the home team, just an acknowledgement of my former school community.  It was good to remember how much I enjoyed San Marin.
BF