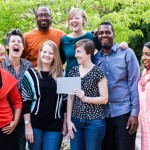 Ten days ago I photographed the 2013-14 class of Beatitudes Society's Fellows during their retreat in Berkeley, California. The Beatitudes Society is a national Progressive Christian organization that selects emerging faith leaders who have demonstrated an ability to lead.  (You can view my photos at this link.)
Originally, I had wanted to photograph the new class a day earlier so that I could photograph a country artist known for his song about worlds crashing down at a red light on a Sunday; however, when Anna Woofenden, the new Fellowship Program Associate, requested that I visit on October 16th, I realized that I had a bigger choice.
I could spend the 45th Anniversary of Tommie Smith's Gold Medal victory with fellow travelers or I could continue chasing red lights.
I chose to be with Anna, Rev. Anne Howard and the new class of The Beatitude Society Fellows. I chose correctly.… Read the rest
---