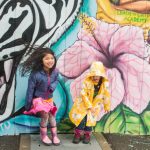 This is the eighth year that I have photographed the Melrose Leadership Academy dual immersion kindergarten students. I have photographed every kindergarten class since MLA introduced the Spanish bilingual program. My daughter was in the first class; my son started two years later. I have also photographed other activities, often as the Historian. (See the MLA Collection of Galleries.)
MLA is an OUSD district school. We have created something special in a place where failure is expected. If I did not have my pictures, I would question whether we ever built the school. Some days, I still wonder if I am hallucinating.
One of my mentors, Jim McNay, recently sent me an article about long-term projects from the Magnum Photo Agency site. The authors provide "Five lessons in developing and sustaining a long-term photographic project." The first lesson: have a mission statement. Why is this story important?
My goals have changed during the eight years, but my reasons have remained consistent.… Read the rest
---