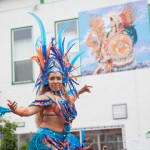 I attended the 37th annual San Francisco Carnaval Parade on Sunday May 24, 2015. This was the third consecutive year that I have attended as part of the Fogo Na Roupa contingent. I am allowed to walk the parade route with my camera, because my eleven year old daughter dances. I took some photos again this year.
There were more than sixty groups participating this year. We arrived about two hours before the parade started so that we could park and find our spot.
I probably enjoy the parade preparation more than the actual parade. Photographers and groups mingle with each other. The dancers rehearse and complete their costumes.
Some participants finalize their floats.
Once the parade began this year, I still enjoyed myself. It's Carnaval.
Even the dogs are friendly.
People of many different ages and appearances participate at Carnaval. Carnaval provides a positive experience for many body types and abilities.… Read the rest
---