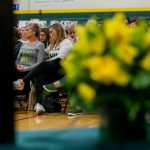 People often contact me and ask me questions about photography, but a couple weeks ago I received an unusual phone call about some of my photographs. A woman found pictures of the 2011 San Marin High School basketball team's North Coast Section championship season.
She wanted the pictures for a memorial service.
That's how I learned that San Marin's basketball coach Craig Pitti died. Craig had been diagnosed with Cancer this September. He died last month. San Marin High School held a memorial service last week.
I attended the memorial and brought my camera.
I taught at San Marin High School during the 2010-2011 school year when SMHS won it's first section title. For the five year anniversary, I created a photo book and sent it to Pitti. I neglected to include my name, but he responded with a beautiful message that I plan to keep as long as possible. During the playoffs last year, I attended one of San Marin's games when they played at another one of my former schools.… Read the rest
---