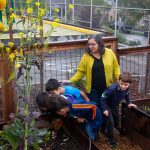 I photographed the Melrose Leadership Academy kindergarten classes again. This year, I asked principal Moyra Contreras to join our portrait session. This is Moyra's last year as the MLA principal.
If not for Ms. Contreras, I would not have had access the last ten years to document the school's growth. As a photographer, I am continually grateful to Ms. Contreras and the rest of the school community for allowing me to work on this project. I would probably thank everyone more, but I don't want to draw too much attention to my good fortune.
If not for Ms. Contreras, the dual immersion district school may not have become a reality. Navigating OUSD and the community requires emotional intelligence that I will never develop.
The first class of kindergarteners that I photographed are now in high school. This year's kindergarten students have just begun their journey. In education, we don't measure much of what is learned in school… we don't measure what I can see in the photos, and how the young students have learned to represent themselves.… Read the rest
---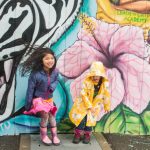 This is the eighth year that I have photographed the Melrose Leadership Academy dual immersion kindergarten students. I have photographed every kindergarten class since MLA introduced the Spanish bilingual program. My daughter was in the first class; my son started two years later. I have also photographed other activities, often as the Historian. (See the MLA Collection of Galleries.)
MLA is an OUSD district school. We have created something special in a place where failure is expected. If I did not have my pictures, I would question whether we ever built the school. Some days, I still wonder if I am hallucinating.
One of my mentors, Jim McNay, recently sent me an article about long-term projects from the Magnum Photo Agency site. The authors provide "Five lessons in developing and sustaining a long-term photographic project." The first lesson: have a mission statement. Why is this story important?… Read the rest
---