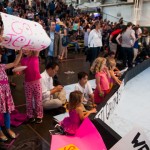 Last week I met sports journalist Justine Gubar. She wrote the book "Fanaticus, Mischief and Madness in the Modern Sports Fan." The book is about crazy fans. Last night I watched the Major League Baseball playoffs. Toronto fans threw beer cans and other debris onto to the field after being upset with an umpire's call (but mostly the fans hit other fans, including kids). Toronto eventually won, otherwise the fans might have thrown kids. Last weekend, I photographed the Bay Area Derby Girl roller derby league championships. Some fans cheered. Some drank beer. Some fans brought their kids (or some kids brought their parents), but nothing unusual happened… except that The Berkeley Resistance won their first league title.
You can view more photos of Berkeley's first league celebration and 161-143 victory over Oakland at the gallery here.
You can also view the third place gallery between The Richmond Wrecking Belles and The San Francisco ShEvil Dead.
During half-time of the championship, adults played a version of a kid game.… Read the rest
---