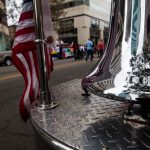 What do we remember when we say that we will "never forget?"
I spent the 15 year anniversary of the September 11th attacks at the Oakland Pride Parade. I found my church (and then lost them) and then joined the denomination that baptized me as a baby (the Methodists). I did not want to be alone this 9/11.
While many Americans will never forget 9/11, most Americans did not know someone who died on 9/11. I knew Mark Bingham, one of the passengers on Flight 93. Mark was an incredible man who has become an American icon and symbol for the LGBT community.
I met Mark shortly after I moved to the Bay Area. Mark organized a weekly football game at Golden Gate Park in San Francisco. Five years ago, I wrote more about how we knew each other.  He was one of the best athletes and one of the best leaders I have known. He was many things, and if you met him, you would not forget him.… Read the rest
---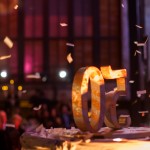 On Saturday November 7, 2015, I photographed Oakland Mayor Libby Schaaf's 50th Birthday Gala at the Old West Oakland Train Station. Mayor Schaaf celebrated her birthday by having a fundraiser for the East Bay College Fund. The 50th Oakland mayor raised money for 50 scholarships.
See my slideshow of the 113 year old building and the birthday gala.
Before I left my house, I read a Knute Rockne quote in Justine Gubar's book Fanaticus.
One man practicing sportsmanship is far better than a hundred teaching it.
 Knute Rockne, who was born in 1888, was a young man when the 16th Street Station opened in 1914. For Schaaf's birthday, I thought that I might repackage Rockne's quote and apply it to diversity.
One person practicing diversity is far better than one hundred people teaching it.
Even though the event was about diversity and education, it was more about "practicing diversity" than teaching it. I did not hear anyone mention the shallow quote about closing the achievement gap.… Read the rest
---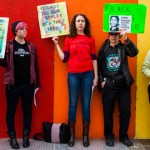 One month ago today, Libby Schaaf became Oakland's 50th mayor. The Inauguration Ceremony was pure Oakland. She rode into office in a Burning Man snail car; she was met at the Paramount Theater by sharp dressed protesters and journalists. (I would like to think that I was both a sharp dressed protester and a journalist, but those days have probably passed me by.)
When I photographed the Inauguration Ceremony, I felt "cautiously ambivalent." There was an odd tension between the protesters and the newly elected officials. The elected officials were probably more optimistic. They invited their children and parents onstage during their speeches. Inauguration day is full of hope. (Did the new board members realize that they had become part of The Establishment?)
I could have photographed the protesters all day. The heightened tension combined with intense visual imagery. The bright colorful walls and stoicism emphasized contradictions. (Additionally, one recently re-elected city council member appeared to protest her own inauguration.)
Desley Brooks is now my Oakland City Council person after recent redistricting. She was re-elected to a fourth term in November.… Read the rest
---