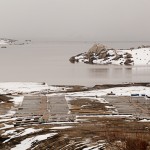 The Southern California Edison Company built Shaver Lake for hydroelectric power. This year, SCE drained the lake to repair the dam. When the water receded, historic buildings were revealed. After the dam is repaired, many of these buildings may not be seen for another hundred years.
At 5300 feet, Shaver Lake is often surrounded by snow from November until March. Seeing snow is not unusual.  Seeing the rocks exposed and the docks on the ground is once in a lifetime.
… Read the rest
---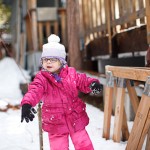 Do you believe digital photography is easier than film photography? What makes digital easier?
Digital cameras store information that many photographers would write in a notebook or on the back of printed photos. The shutter speed, f-stop, and ISO information is stored automatically. The above photo is mostly about shutter speed. After taking photographs for twenty years, I already know that the shutter speed was at least 1/250, but there are many times when I learn something from the exposure information. I also save time, because I do not need to record the data.
Depth of field and shutter speed are the same with digital photography as film photography. This photo is all depth of field. I focused on the small icicle with an f-stop about 1.2.
With digital cameras, photographers have access to an exposure graph called a histogram. Usually, when I am looking at the back of my camera, I am looking at the histogram.… Read the rest
---