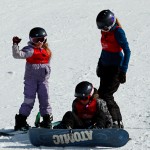 When I was a child, I loved the snow… or at least I loved the idea of snow. Once my ears froze, I wanted to play a different sport. I was afraid. I was afraid of failure and falling. I did not understand ski culture, even though I realized that many of my friends enjoyed skiing. Every four years, I watched the Olympics and imagined that I would "Ski the Peak."
My children are creating different memories.  On Presidents' Day, our family visited China Peak.  (We purchased a special lesson and lift ticket plan, so they children received lessons before snow boarding.) My five year old son was fearless. His older cousins and eight year old sister were successful. I was both proud and envious… but more proud.
See the gallery of the day… especially the face plant.… Read the rest
---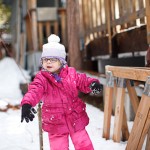 Do you believe digital photography is easier than film photography? What makes digital easier?
Digital cameras store information that many photographers would write in a notebook or on the back of printed photos. The shutter speed, f-stop, and ISO information is stored automatically. The above photo is mostly about shutter speed. After taking photographs for twenty years, I already know that the shutter speed was at least 1/250, but there are many times when I learn something from the exposure information. I also save time, because I do not need to record the data.
Depth of field and shutter speed are the same with digital photography as film photography. This photo is all depth of field. I focused on the small icicle with an f-stop about 1.2.
With digital cameras, photographers have access to an exposure graph called a histogram. Usually, when I am looking at the back of my camera, I am looking at the histogram.… Read the rest
---