Who's The Mannequin?
As part of my WordPress continuing education, I am posting a few outtakes from a portrait shoot this week. You can learn a little about how I approach shooting portraits while I learn how to use WordPress widgets and plugins. If you happen to find my new blog while I am still developing the blog's basic structure, you can compare my progress to the Graph Paper Press  Modularity demo theme.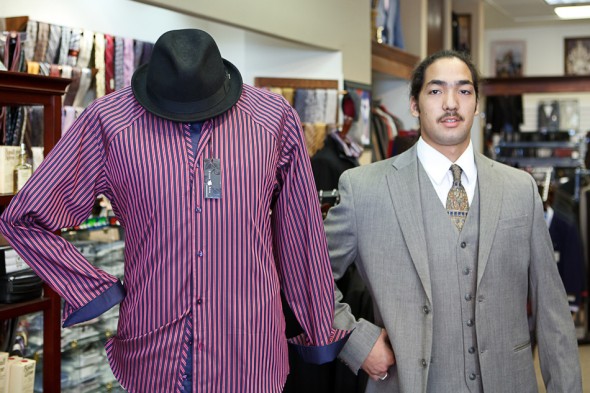 For this post, I created the new category "Children and Families." Eventually, I will have about five categories.
The first gallery is a collection of outtakes. When I shoot portraits, I shoot photos that I never expect to be part of the final gallery.  Sometimes, I take a few photos just so I can adjust to seeing with the camera. Other times I take a few to help the subject relax. Many people become self conscious and uncomfortable when having their portrait taken, so I use this time to check the light and look for better location. I also try to connect better with the people I am photographing, even if I already know them better.
If the subject is feeling a little nervous, I might have them relax or do something a little crazy. Cole and his family were at a Marin County farmers market. I saw some mannequin's in Urban Outfitters. I thought it would be fun and a little crazy if we shot a few photos next to mannequins. We took his sister into the store too.  I became more excited and started seeing better. Below are some of the shots.
Here are the final portraits.
[photoshelter-gallery g_id='G00004NgcUoW6kFU' g_name='Cole-Market-Portraits' f_show_caption='t' f_show_slidenum='t' img_title='iptct' pho_credit='iptc' f_link='t' f_enable_embed_btn='t' f_send_to_friend_btn='t' f_fullscreen='t' f_topbar='t' f_bbar='t' f_htmllinks='t' f_mtrx='t' fsvis='f' width='590′ height='393′ bgcolor='#AAAAAA' btype='old' bcolor='#CCCCCC' crop='f' twoup='t' trans='xfade' tbs='2000′ bgtrans='f' linkdest='c' f_constrain='f' f_bbarbig=" f_show_watermark='f' f_smooth='f' f_ap='f' f_up='f' target='_self' wmds='llQ6QNgpeC.p1Ucz7U.Y4B8OdFJU2dj9N0Q8hWstZcYwMfidirdd0jWjbJWgLBwUfXuk9w–' ]