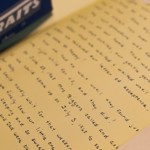 Everyone is adopted… some of us are more adopted than others.
I was adopted 46 years ago today on July 3, 1968. As long as I have known my life story, I have known that I was adopted. I have always loved being adopted. I wish that every child could be adopted, even if each child were adopted by their biological parents.
I like my birthday too, but my actual birthday is more of a myth than my actual adoption day. Obviously, I know that I was born. I have a birth certificate with a birth date, but I feel that I am lacking some evidence. (I can already hear my mother's voice in my head, "What are you saying Bryan? Are you saying that you do not believe you were born on May 16th in Riverside, California?)
I am saying that it does not really matter.
By the time I was six weeks old, my life story had provided me with important life-long life lessons.… Read the rest
---