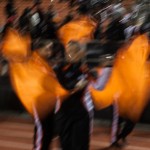 I was dreaming when I wrote this. Forgive me if goes astray…. (Prince 1999)
Before I begin writing, I usually want to know where my article is going to take me, but I know from previous experience, writing is a process. I have actually published a few blog posts, but nothing that has captured the entire year. I still do not know what has happened. Everything has been a blur.
Thanksgiving is my New Years Day. I celebrate Thanksgiving by playing The Fresno High Senate Stogie Bowl. The Senate is the oldest high school club of its kind in the country.  I play football every Thanksgiving with high school students and alumni. I have attended for 30 consecutive Thanksgivings. Some players were born in 1999. I wear clothes that are older than most of the players… I am that old.
I did not actually play last year, because I was recovering from an auto accident.… Read the rest
---