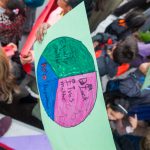 "Imagine all the people living life in peace"
John Lennon
Yesterday, my son's Spanish bilingual school, Melrose Leadership Academy, organized a march through our Maxwell Park neighborhood in Oakland, California.
Here is the photo gallery of the peace and kindness march.
The march had been planned before the recent tragedy in Oakland; however, our school community benefited from the supportive event. If you are avoiding news, Oakland has experienced the deadliest fire since 2003 in the United States. The Oakland Ghost Ship Fire was about two miles from MLA. National news outlets have asked questions about the fire that our community might not be prepared to ask. We needed a reason to gather.
I was also aware that the peace march was held on the 75th anniversary of Pearl Harbor. Some people might view these images and not find the march patriotic. I don't. My son wanted to paint his face red, white and blue, because he sees America in his classmates and teachers.… Read the rest
---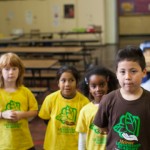 When my 11 year old daughter began kindergarten at Melrose Leadership Academy, I had a simple idea. I thought I could photograph each kindergarten class as long as my children attended the school. I live in the neighborhood. How difficult could it be?
As I tell my photography students, simple and easy are not the same. "Simple" is difficult and my simple idea has become more difficult this year. I teach in a district an hour away from my home. We have the same breaks, so I don't have a week to visit the school.
There is another complication. I try to create something different each year. MLA was at a different site the first three years, so those pictures all look different from the more recent images. Each year I wonder how I am going to create something interesting. Last year, I gave the kids magnifying glasses. This year, the students photographed me with my smartphone.… Read the rest
---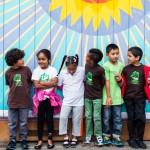 Registration just started for the 2013-2014 school year.  Kindergarten families and first graders register today. (I remember registering our first child before the Spanish immersion program started. We were scared!) Many people worry when they send kids to school… any school, so I thought I would post the galleries  from last year's kindergarten and first grade classes.
Here are photos of both first grade classes. Except for the photo that includes me, I took these photos in June. 2012-2013 First Grade Photo Gallery. I think a first grader took the photo of me, and I probably should give him credit and ask permission before posting it.
Here is the 2012-13 Kindergarten Photo Gallery. Did you think your kids would have this much fun by the end of kinkindergarten? Tomorrow the second through fourth graders register. On Friday August 16, the  sixth through eighth graders register.   Remember to click the link if you wish to view the photo gallery.… Read the rest
---