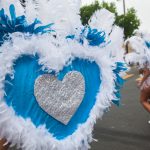 Carnaval San Francisco
On May 28th, 2017, I photographed the 39th Annual Carnaval San Francisco Grand Parade in the Mission District. The parade lineup included about 70 groups. I took about 1600 pictures. My final edited photo gallery has fewer pictures, but you should check for yourself.
2013
In 2013, 2014 and (again in 2015), I photographed the parade route; my children were with the Fogo Na Roupa contingent.
This year I photographed the entire parade… or as much of the parade as I could. Because I spent the previous parades with one crew, I did not realize that groups lined up on both sides of 24th.
Before the parade started, groups line up for several blocks in each direction fixing their costumes and practicing their routines.
This year's theme is "El Corazón de San Pancho/The Heart of San Francisco." The theme underscores how the city welcomes people.… Read the rest
---