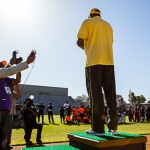 When I traveled to Mexico City four years ago, I never expected that I would meet Olympic Gold medalist Tommie Smith one day. Four years ago, I was thrilled to see the outside of the Estadio Olimpico Universitario during a family vacation to Mexico. This year I met Tommie Smith.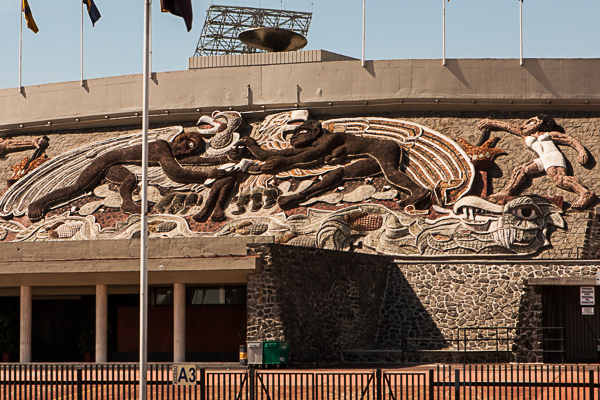 The 1968 Summer Games were important athletically and culturally. Bob Beamon won the long jump with a world record he held for more than 22 years. In the high jump, Dick Fosbury introduced the "Fosbury Flop." Czech gymnast  Vera Caslavska won four gold and two silver medals becoming the all-time most successful Olympic gymnast. The 1968 Games are also known for the Tommie Smith and John Carlos Black Power salute.
Last December I attended an event at San Jose State. There is a statue of Tommie Smith and John Carlos. When I saw the statue, I did not know that either athlete was still alive.… Read the rest
---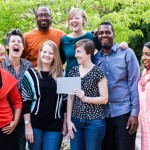 Ten days ago I photographed the 2013-14 class of Beatitudes Society's Fellows during their retreat in Berkeley, California. The Beatitudes Society is a national Progressive Christian organization that selects emerging faith leaders who have demonstrated an ability to lead.  (You can view my photos at this link.)
Originally, I had wanted to photograph the new class a day earlier so that I could photograph a country artist known for his song about worlds crashing down at a red light on a Sunday; however, when Anna Woofenden, the new Fellowship Program Associate, requested that I visit on October 16th, I realized that I had a bigger choice.
I could spend the 45th Anniversary of Tommie Smith's Gold Medal victory with fellow travelers or I could continue chasing red lights.
I chose to be with Anna, Rev. Anne Howard and the new class of The Beatitude Society Fellows. I chose correctly.… Read the rest
---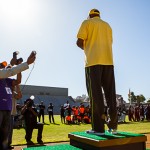 I met Tommie Smith on Saturday during the tenth annual 2013 Tommie Smith Youth Track Meet.  The two day meet occurred at Edwards Stadium on the University of California campus.
I am still excited.
I meet interesting people almost every day, and I met many interesting people during the track season, but Tommie Smith is an international hero who I have known about since I was a kid growing up in the San Joaquin Valley. Besides being an Olympic Gold Medalist and former world record holder, Tommie Smith is a civil rights icon. He is a role model.  I was so excited, I unintentionally ignored UC Berkeley Chancellor Robert Birgeneau. Chancellor Birgeneau seemed excited too. There is only one Tommie Smith.
The 100 Black Men of the Bay Area sponsor the year-round track and fitness program. My daughter's team is led by former NCAA All-American Willie White. (Coach White was inducted into the Cal Athletic Hall of Fame in 2000.)
Many of the teams are coached by former college athletes.… Read the rest
---