From Mexico with Gold
When I traveled to Mexico City four years ago, I never expected that I would meet Olympic Gold medalist Tommie Smith one day. Four years ago, I was thrilled to see the outside of the Estadio Olimpico Universitario during a family vacation to Mexico. This year I met Tommie Smith.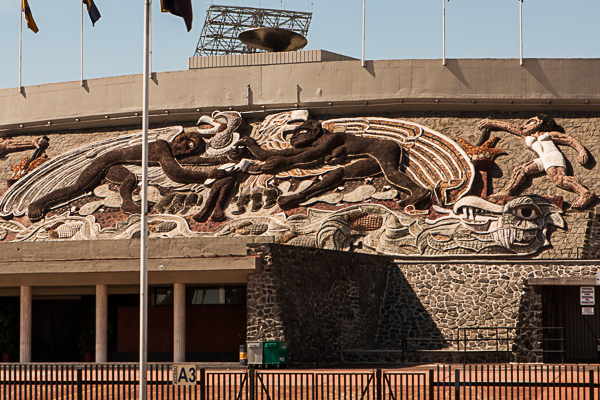 The 1968 Summer Games were important athletically and culturally. Bob Beamon won the long jump with a world record he held for more than 22 years. In the high jump, Dick Fosbury introduced the "Fosbury Flop." Czech gymnast  Vera Caslavska won four gold and two silver medals becoming the all-time most successful Olympic gymnast. The 1968 Games are also known for the Tommie Smith and John Carlos Black Power salute.
Last December I attended an event at San Jose State. There is a statue of Tommie Smith and John Carlos. When I saw the statue, I did not know that either athlete was still alive. The following month, my nine year old daughter joined an Oakland track team. In February, she met Tommie Smith. On June 1, 2013, I met him at the Tommie Smith Youth Track Meet.
Meeting Tommie Smith was unbelievable. Tommie Smith is more than an Olympic Gold Medalist. He is an Civil Rights hero too. Smith won his Gold Medal the same year that the USA lost Dr. Martin Luther King, jr and Robert F. Kennedy. Smith and John Carlos won medals and were later expelled from the Olympic village. (The Australian silver medalist Peter Norman wore an Olympic Project for Human Rights badge; he was not allowed on the 1972 team.)
I was born in 1968 during the several week period between the Dr. Martin Luther King, jr. and Robert F Kennedy assassination. After RFK died, America supposedly needed a civil rights hero. Smith would have been a good candidate, but he was ignored. Even though I knew about his 1968 salute, I did not know what had happened to him until this last year.
Coach Joe Cokes encouraged our daughter to join the track team. Coach Joe works for Playworks, a non-profit that provides coaches to low-income urban schools. Coach Joe works at my children's Oakland school.
Cokes was a college hurdler. When Cokes was younger, Willie White coached his team. White coaches my daughter's team that trains at Castlemont High School. White is a former NCAA All-American. In 2000, he was also inducted into the Cal Hall of Fame.
Has the world changed much since 1968? I really do not know. In 1968, Smith protested racial segregation at home and in South Africa. This year, African American coaches trained my white children. Are my children the exception? Are we the Peter Norman's?
My children are visiting Mexico again. I wonder how my children view their own identity. Do my children see skin color the same way that my generation sees it? Do my children see themselves as outsiders or part of the crowd? Do my kids see themselves united by their ability to speak two languages or do my kids see themselves separated by ethnicity and skin color?
How do other children view my kids? 
To see more track photos from the Tommie Smith Invitational: Tommie Smith Invitational Day 1, Tommie Smith Invitational Day 2
NOTE: One August 15, 2014 I edited this post. Originally, I omitted the correct date that Coach White was inducted in the Cal Hall of Fame. I have also added a link to the Berkeley HoF site.