Adrienne LaGier Forgette – 2012 CNN Fit NationTriathlete
My friend Adrienne LaGier Forgette was a 2012 CNN Fit Nation triathlete.  Adrienne is a Maryland high school journalism teacher and the mother of twin girls and her road to becoming a celebrity triathlete is unusual. More than a year ago, a co-worker confused Adrienne with another faculty person who was 8 months pregnant. Adrienne and some of her students created a video and submitted it to CNN and one day Adrienne received a phone call… and then another. You can find her video at the link above and see her introductory CNN profile here.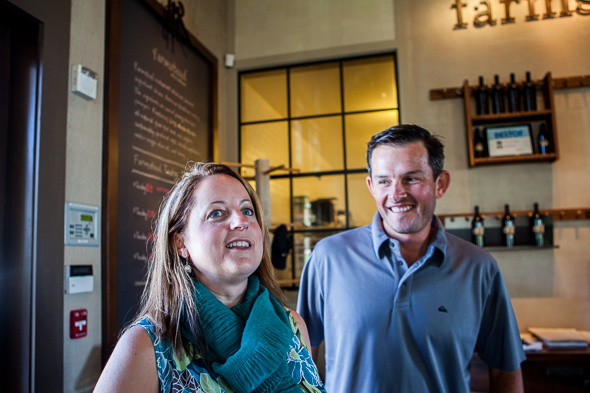 When I shared the announcement today for the 2013 CNN Fit Nation Triathlon Team on Facebook, I added this comment about Adrienne," One of my friends applied for the 2012 team and changed her life and those around her. To be fair, she changed lives before she changed her health."
Before Adrienne joined Dr. Sanjay Gupta and the CNN team, Adrienne inspired people.
She inspired her students to create a video that would tell her story.  During her journey to Atlanta, Hawaii and Malibu, Adrienne motivated others by her willingness to model life long learning. While Adrienne has appeared on CNN with Dr. Sanjay Gupta, I am more impressed that she has changed her life. When I visited her and her newlywed husband Chris Forgette in Napa Valley last month, they were excited to try the farm-to-table restaurant Farmstead in St. Helena, California. (We also went olive oil tasting at nearby Long Meadow Ranch Winery.)  Next week, she will compete in another triathlon.
[photoshelter-gallery g_id="G0000i40dWjFJHNI" g_name="Adrienne-LaGier-Forgette-CNN-Triathlete" f_show_caption="t" f_show_slidenum="t" img_title="fname" pho_credit="iptc" f_link="t" f_enable_embed_btn="t" f_send_to_friend_btn="t" f_fullscreen="t" f_topbar="t" f_bbar="t" f_htmllinks="t" f_mtrx="t" fsvis="f" width="590″ height="393″ bgcolor="#AAAAAA" btype="old" bcolor="#CCCCCC" crop="f" twoup="t" trans="xfade" tbs="2000″ bgtrans="f" linkdest="c" f_constrain="f" f_bbarbig="" f_show_watermark="f" f_smooth="f" f_ap="f" f_up="f" target="_self" wmds="llQ6QNgpeC.p1Ucz7U.Y58Wyj3eSxm9RV8xgjVQ3ADlrOWFCc7.oGZIot8.4tp.5YI6sYw–" ]
I had hoped to document the Nautica Malibu Triathlon but I have been recovering from an auto accident. When I was in high school, Zuma was my home beach during summer vacation and I would have enjoyed jumping into the waves and photographing the athletes. Lately, I have wondered if I will ever feel better, but seeing Adrienne and Chris inspireded me. If I keep focusing on my health, I might be able to swim, bike and ride again.