The Writing Center at 826 Valencia
On Wednesday March 6, 2013, third graders from Oakland's Melrose Leadership Academy traveled to 826 Valencia in San Francisco.  MLA students attended 826 Valencia's interactive Screenplay program, which is similar to the popular Storytelling and Bookmaking program the students attended last year.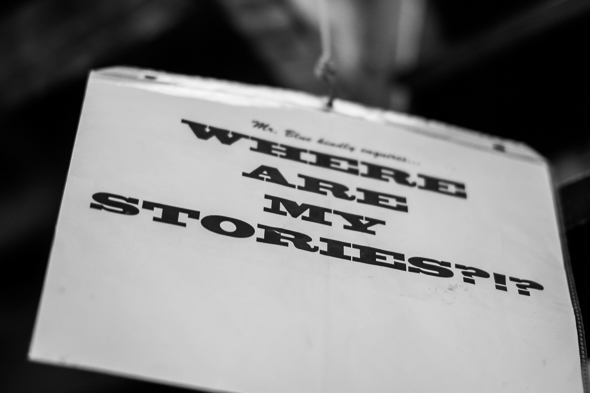 Photography Gallery of the Melrose Leadership Academy Field Trip to 826 Valencia Writing Center in San Francisco
On Tuesday, workshop leader Jami Johnson collaborated with Melrose students to create "The Stolen Ice Cream." Students practice their writing skills developing characters and story concepts. Before the students voted on their title, the students set the story, "Deep in space on planet Banana Split." With the "Setting" decided, students chose characters.
Characters were identified by protagonist  sidekick and antagonist. The students named these characters Agent Cheese, Agent Doggy and The Foot. For the story, the students learned how to add actions to the script. AGENT CHEESE (stamps his foot) …
Kavitha Lotun, who helped as the group's typist, encouraged the students to expand their story. Kavitha typed the first part of the story and each student completed their own conclusion.
Four possible titles were nominated for the screenplay's title. Students chose The Stolen Ice Cream overwhelmingly. This is a pretty good title for the age group. Third graders love ice cream; stealing is dramatic. I want to know who stole the ice cream and I do not eat ice cream. (or steal… really, I don't.)
Each student wrote their own conclusion. Several adults from 826 Valencia helped.  (Peter Hockaday, Amanda Meth, Gloria Lenhart, Joey Bien-Kahn, David Becker, Sukhraj Sihota and Artist Sietske Tjallingii helped) Melrose parents also helped students. When the students finished writing their conclusion, the Melrose Leadership group walked to Mission Delores Park for lunch. One adult picked up the finished books on the way back to BART and and Oakland.
See more photos from the Melrose Leadership Academy field trip to 826 Valencia Writers Project at this link.
A flash slideshow is also available here.
MLA is a K-8 OUSD school with a dual immersion program  (MLA se a convertido en una escuela K-8 con un programa de inmersión dual.)