Lessons from Another Funeral
Two days ago I attended a memorial service and reception for Jeffrey Lester; Jeff died two months after being diagnosed with cancer. I have attended many funerals and memorials during the last several years. His memorial service seemed more uplifting. It reflected a life lived fully.
When I left town, I turned on the radio. The first song was an old Tim McGraw favorite, "Live Like You Were Dying."
Sometimes I find the song a little silly. Another time I pulled over to the side of the road, because it has not been safe to drive with tears in my eyes. Yesterday, I drove with a smile as I heard the lines,
I was in my early forties
With a lot of life before me
And a moment came that stopped me on a dime
And
I was finally the husband
That most of the time I wasn't
And I became a friend a friend would like to have
And I sang along with the lines
And I loved deeper
And I spoke sweeter
And I gave forgiveness I'd been denying"
And he said
"Someday I hope you get the chance
To live like you were dying"
Then I turned off the radio and drove.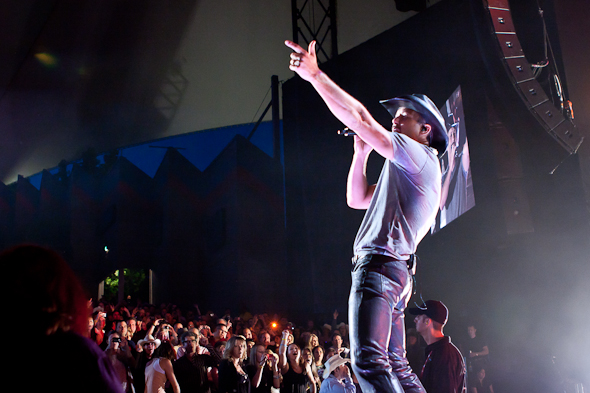 When I arrived home, I opened photos from Tim McGraw's Southern Voice Tour. I photographed the concert after attending with my little son Mason.  Mason had just turned 4 when we attended the concert. We had pretty good seats through the Tim McGraw Fan Club though we were not this close.
I love these concert photos, because of the fans' reactions. Even the folks who might be in their early forties are living as if this could be their last concert and the younger fans are living as if this was their first.
[photoshelter-gallery g_id='G0000Mxcv7KV91J4′ g_name='Live-Like-You-Were-Dying' f_show_caption='t' f_show_slidenum='t' img_title='iptct' pho_credit='iptc' f_link='t' f_enable_embed_btn='t' f_send_to_friend_btn='t' f_fullscreen='t' f_topbar='t' f_bbar='t' f_htmllinks='t' f_mtrx='t' fsvis='f' width='590′ height='393′ bgcolor='#AAAAAA' btype='old' bcolor='#CCCCCC' crop='f' twoup='t' trans='xfade' tbs='2000′ bgtrans='f' linkdest='c' f_constrain='f' f_bbarbig=" f_show_watermark='f' f_smooth='f' f_ap='f' f_up='f' target='_self' wmds='llQ6QNgpeC.p1Ucz7U.Y4B3OLQcGEdsI3AfMq3hdN78CF2y4ZUr6LiqlZnkr9NR.8bI6UQ–' ]