Vans Warped Tour 2012 San Francisco
Vans Warped Tour 2012 … Coming to a parking lot near you.
Some concerts are better outdoors. Some are even better just outside the stadium. The Vans Warped Tour is one of those events. It is better when it is in the parking lot.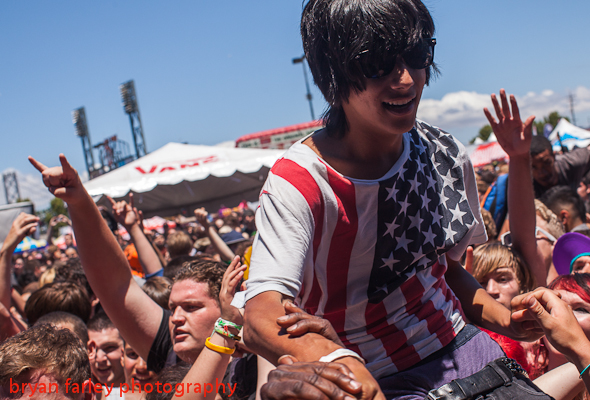 When the 2012 Vans Warped Tour arrived in the Bay Area, the music festival stopped next to AT&T Park in downtown San Francisco. The festival sold out. When I photographed Vans Warped the last two years at Shoreline Amphitheatre near San Jose, California, the event felt cramped despite the amazing energy. There are  approximately 80 bands performing on seven stages. There are vendors, non-profits and demonstration areas.
People need space.
[photoshelter-gallery g_id='G0000sB8YFX1fDgM' g_name='Vans-Warped-San-Francisco-Pierce-The-Veil' f_show_caption='t' f_show_slidenum='t' img_title='iptct' pho_credit='iptc' f_link='t' f_enable_embed_btn='t' f_send_to_friend_btn='t' f_fullscreen='t' f_bbar='t' f_htmllinks='t' f_mtrx='t' fsvis='f' width='590′ height='393′ bgcolor='#AAAAAA' btype='old' bcolor='#CCCCCC' crop='f' twoup='t' trans='xfade' tbs='2000′ bgtrans='f' linkdest='c' f_constrain='f' f_topbar='f' f_bbarbig=" f_show_watermark='f' f_smooth='f' f_ap='f' f_up='f' target='_self' wmds='llQ6QNgpeC.p1Ucz7U.Y5pjvBX9RrOw5e_3U7AlhQP5DPeCd1Tz_BQIhe0INSIYefdYvbw–' ]
I photographed about twenty bands. I took nearly 2,000 photos. A San Diego band, Pierce The Veil, performed on one of the main stages towards the end of the day. There are several bands that I wish I could follow during the summer, or at least shoot a few more times. Pierce The Veil is one of those bands.
As more photos are published, I will write more. Until then, you can go to my website to see the processed photos from Saturday 23, 2012. You may wish to view the slideshow in this format too. From here, you can share individual photos and move through the large galleries more quickly.