Mayday Parade in Summer
Two months ago I photographed a Mayday Parade protest in Oakland. I must have been influenced by the Occupy Oakland protests two months ago, because I was expecting an angry mob for the Mayday Parade concert at the 2012 San Francisco Vans Warped Tour stop on Saturday, June 23.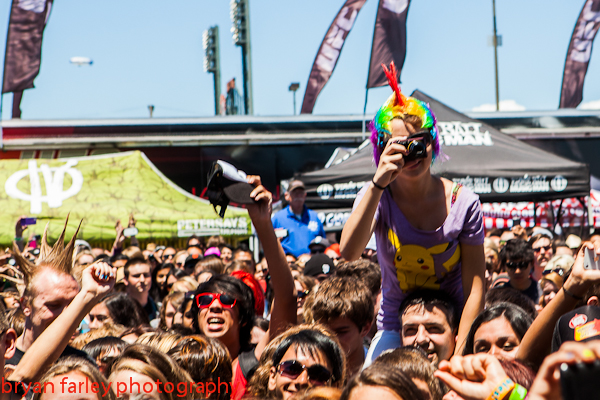 The crowd was colorful and loud, but even the woman with a rainbow mohawk could have been part of a South Beach (Miami) photo shoot instead of a South Beach parking lot music festival near AT&T Park.
[photoshelter-gallery g_id='G0000ZdnDO7iBKNU' g_name='Vans-Warped-San-Francisco-Mayday-Parade' f_show_caption='t' f_show_slidenum='t' img_title='iptct' pho_credit='iptc' f_link='t' f_enable_embed_btn='t' f_send_to_friend_btn='t' f_fullscreen='t' f_bbar='t' f_htmllinks='t' f_mtrx='t' fsvis='f' width='590′ height='393′ bgcolor='#AAAAAA' btype='old' bcolor='#CCCCCC' crop='f' twoup='t' trans='xfade' tbs='2000′ bgtrans='f' linkdest='c' f_constrain='f' f_topbar='f' f_bbarbig=" f_show_watermark='f' f_smooth='f' f_ap='f' f_up='f' target='_self' wmds='llQ6QNgpeC.p1Ucz7U.Y5pjsheFRy84ZN7_gbTcAR4A5whEOF2ONaXQZvBh3pbEB5vPLPQ–' ]