Talking to Derby Girls about Joan Jett
Last weekend, I took my new derby persona, P Giddy, on the road to Santa Cruz. I also took my family. We live about 2 hours from Santa Cruz, and my persona did not adjust until I walked into the new Kaiser Permanente without the kids … and Joan Jett's Bad Reputation played. If P Giddy had a patron saint, it would be Joan Jett, though the Wilson sisters influenced his style guide.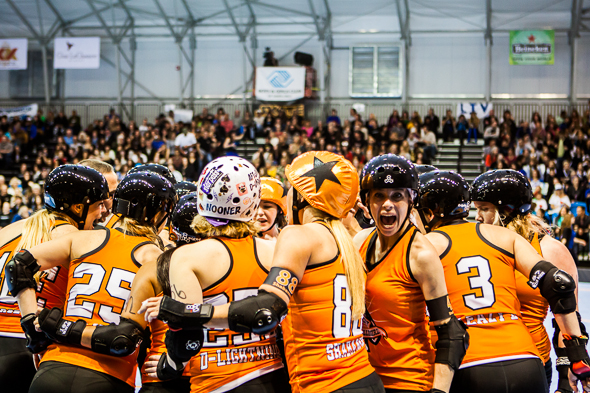 Women's Flat Track Derby is many things to many people, but derby is more Afternoon D-Lightning than Starland Vocal Band. At it's core, derby is Rock and Roll… and I love rock and roll. To prepare my children for their first bout, I showed my kids the I Love Rock N Roll video by Joan Jett and the Blackhearts.  The video starts with Bad Reputation, so the kids learn TWO JOAN JETT SONGS.
My son, who turns 7 this May, might love Joan Jett more than I do. He watched I Love Rock N Roll more than my daughter listens to Taylor Swift. His mother asked how I knew he would like Joan Jett. I explained by asking her, "How did you know he would like cupcakes?" But even I had to admit, I was surprised by his appetite. He keeps screaming that he loves Rock and Roll… and Wait! Here is the guitar! I think he even likes the black leather jacket. Some things are more difficult to shake.
I probably knew my son would like Joan Jett and women's flat track derby, because I remember being introduced to Heart and the Wilson sisters when I was not much older than he is now. My mom's friend Dolly played songs about fish (Barracuda), a dog and a butterfly. IT WAS MAGIC!
My kids are not the only children crazy on derby. Other children attend bouts. Kids with pacifiers cheer for their favorite players. Kids in their forties bring their children.
Military personnel attended last week's bout too. People in wheel chairs watch derby. Tattoos are not required, but allowed. At the Santa Cruz bout, many people wore clothes supporting two police officers who were recently killed. Derby might be alternative or underground, but it is also community based.  Derby is inclusive.
Derby is also exciting, especially when a bout is close. The Santa Cruz Derby Girls hosted the Las Vegas Sin City Rollergirls at the Kaiser Permanente Arena  on Saturday March 16, 2013. More than 2,000 people watched as the Boardwalk Bombshells defeated the team from Las Vegas, 153-124. Santa Cruz dominated early, but Sin City closed the first half strong. The lead changed a few times in the second half before Santa Cruz won.
If you have never seen derby, view my photo gallery and you can see that derby players respect each other. Even the losing team thanked the officials. The winning team also celebrates. (Often, winning teams forget to celebrate… not in derby, almost everyone celebrates.)
If you have ever read Rob Sheffield's book "Talking to Girls about Duran Duran," you know where I borrowed this post's title. While I loved Sheffield's book, I would rather talk to derby girls about Joan Jett than Duran Duran.
My son is too young to understand many of the adult themes in Rock and Roll, but he understands power and emotion. He knows leadership when he sees it, and I am grateful that he has the opportunity to see the variety of women role models that women's flat track derby provides. Sure, I am grateful that my daughter attended derby too, because I want her to find her voice. I want her to be a leader, and I did not find my voice by listening to Duran Duran.
Final Note: Even Duran Duran fans are welcome at derby.