Country Roads Take Me Home
Lately, I have wondered if God were my D.J. At the exact moment I need to hear a song, Pandora, Whole Foods, or some random person selects the song with the appropriate message. During the last two weeks, I have heard John Denver's Country Road two times. I am not from West Virginia, yet the song reminds me of my old Central Valley home town. The day after hearing the song a second time, my favorite Fresno County farmers told me to visit the Fresno County Blossom Festival. NOW!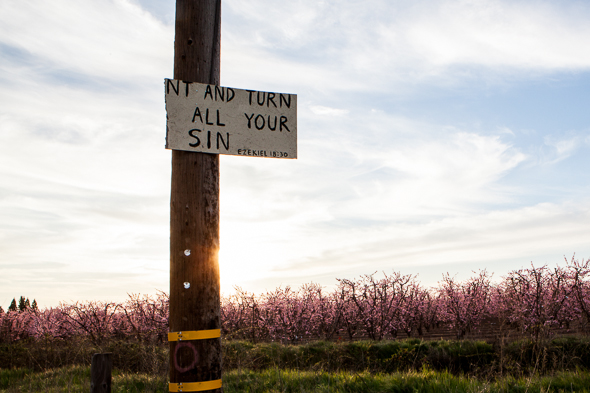 On my good days, I trust that God and farmers will feed my soul and nourish my body. I am grateful that I listened last week. I woke up two hours before sunrise Wednesday morning, turned on the radio, turned onto the interstate and headed for the country roads. As the sun rose,  "I (could) hear her voice, in the morning hour." Fresno called me… taking me home.
People who are not from Fresno joke about our town, and if I seem a little defensive, I am. I do not find the jokes funny. I joke that if you are from Fresno and you do not have a chip on your shoulder, you are not really from Fresno… or you have not grown up.  I find this especially true for those of us who have left. We must defend ourselves away from Fresno and when we return and our old friends or our old selves ask, "Does he drive the interstate, or does he take them old back roads?" I drive both.
When I left Fresno for Santa Barbara, I found that I missed the seasons. I missed summer and fall. I missed the thick valley fog. I definitely missed this time of year. In addition to Lent, this is Blossom Season. Lent and Blossom Season are similar. Both seasons are times of uncertainty and both offer a promise of  a better time.
People who are not from The Valley, might think we are simple folk who all post Bible signs on telephone poles. Few of us believe we have all the answers and most of us understand that there is something greater than ourselves… call it what you will. God, The Universe… or the time when one can feel the winter giving way to warm.