Treasure Island and Painted Wonderland Day 1
On Saturday October 13, I attended the first day of the Treasure Island Music Festival.  For the last few years, I have photographed hundreds of musicians, at concerts and music festivals.  This year I assumed I would photograph several more acts during the two day festival. Instead, I spent most of the festival with my friends at the Painted Wonderland tent.
I also remembered something about concerts. Concerts are fun. The Treasure Island Music Festival is a whole lot of fun.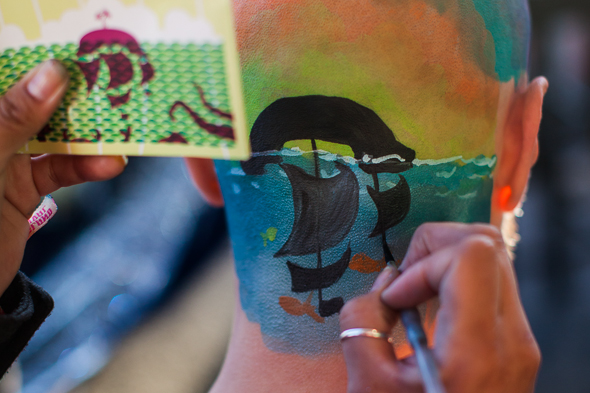 The first few hours I felt out of place. Everyone was happy and I was sulking. I realized that I usually work concerts, and I had missed the point. Concerts are fun. Fortunately, some guy started blowing bubbles. Bubbles are fun. It is impossible to frown and see bubbles. There were a lot of bubbles.
[photoshelter-gallery g_id="G0000cafZhC0FkWI" g_name="Treasure-Island-Painted-Wonderland-Day-1″ f_show_caption="t" f_show_slidenum="t" img_title="fname" pho_credit="iptc" f_link="t" f_enable_embed_btn="t" f_send_to_friend_btn="t" f_fullscreen="t" f_topbar="t" f_bbar="t" f_htmllinks="t" f_mtrx="t" fsvis="f" width="590″ height="393″ bgcolor="#AAAAAA" btype="old" bcolor="#CCCCCC" crop="f" twoup="t" trans="xfade" tbs="2000″ bgtrans="f" linkdest="c" f_constrain="f" f_bbarbig="" f_show_watermark="f" f_smooth="f" f_ap="f" f_up="f" target="_self" wmds="llQ6QNgpeC.p1Ucz7U.Y58W01Kq4EJDLE_T81_VESyRZ.D0b2Pf59KWLqNs_AAFavdet3Q–" ]
At the Painted Wonderland tent, several talented artists created unique designs. The customers entered the tent happy and left happier. I would leave occasionally when I would hear a drum beat or see a pirate on stilts.   The Samba Stilt Circus walked right behind our tent and I joined (with my camera, but not stilts. They are like a drum circle on stilts … and there was music. My favorites were from Oakland or from 1988.
Please leave comments for the various artists. You can compliment me for having fun, but I basically walked through a museum and took pictures. Give credit where it is due.