On a Sunday in the Sunshine
When I fell in love with women's flat track derby, I was already a fan. Derby answered a nagging question… or rather, derby helped me answer all those people at UC Santa Barbara who nagged me with the question, "So, what is a man gonna do with a BA in Women's Studies?" This man is gonna listen to Joan Jett, drink a beer, eat a vegetarian tamale, and watch women skate around in a circle and hit each other.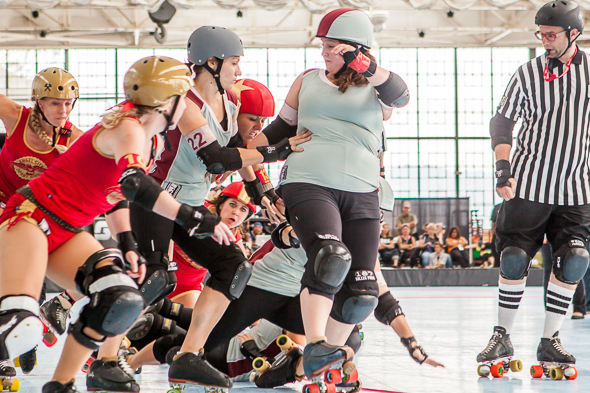 Finally, I could go somewhere an not worry about my bad reputation (not that I really worry anyway). Derby had all types of women competing and every demographic supporting their aunts, sisters, mothers, girl friends, daughters and friends.  Derby was like Glee all grown up, except I knew the music,  I understood the references, and every competitor was someone I wanted my daughter to meet. One of the skaters even named herself belle RIGHT hooks! You gotta be kidding! I kept looking for Jane Lynch and… well, she is the only female Glee cast member I know. Full disclosure, I think she is hot. (Yeah, I know. What can I say? I also had a crush on Ellen many years ago. Who didn't?)
But a crush is not love. I fell in love with women's flat track roller derby when I least expected it. On a Sunday… in the sunshine, during a consolation bout between two rivals who fought hard and respected each other afterwards.
The final day of the 2012 WFTDA, WestRegion  Championships in Richmond, California featured five bouts. Sunday's first three bouts decided fifth through tenth place. The last two bouts would decide the region's winner and the region's three national tournament representatives. Sacramento's Sacred City Derby Girls and the Angel City Derby Girls from Los Angeles skated in the second bout. Fewer fans arrived for the early bouts, so many people missed one of the most exciting bouts of the year. I was still in my pre-PGiddy derby photographer days and covering the bout as if I were a real sports photographer, AND I STILL FELL IN LOVE WITH THE SPORT. The bout was that good.
I have watched athletics for about forty years. I have photographed, coached, officiated and played in many competitions. This bout was one of the best. When I review the images and watch each athlete, coach and official, I am more confident that I witnessed something special. (Watch the slideshow!) Some people argue that a match cannot be significant unless there is a title at stake. One could argue that this contest deserves extra consideration, because the women competed when others would have rested. Both teams fought hard. After the bout, rivals embraced, cried, and fell to the floor, not necessarily in that order.
As Sacred City and Angel City renew their rivalry this Saturday, the memories of the bout are more complicated than glee. When the final jam ended (and the bout was over), both sides believed that they had won
… and they were correct.
bf