Rock My Derby
I am like an official women's derby photographer now. I am more than a little excited. I'm running and I won't touch ground. Eva Menace, the PR person for The B.ay A.rea D.erby Girls, invited me into Saturday's season opener on March 2, 2013 at the Craneway Pavilion in Richmond, California. Now I can take photos of REAL LIVE DERBY GIRLS like Lulu Lockjaw. Lulu actually let me take her picture. Wow. What's a boy to do?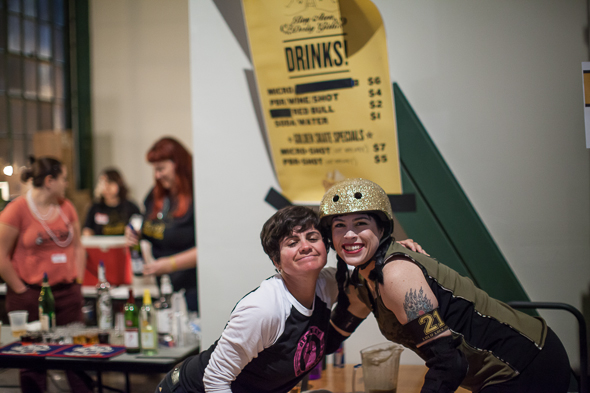 I think I have a found my derby persona too.  As I understand derby personas, they are like an alter egos. My derby alter ego uses the word "like." He also has the exuberance of a respectful high school sophomore boy who happens to drop his camera and damage his lens.  (Assuming this never happens again, it was worth it.) If you are one of the five people who read my blog, you know that I usually take my self way too seriously. My derby persona is still attracted to Kate Jackson (yeah right?  Am I the only person who thought THAT ANGEL was the cutest of all the super detectives on Charlie's Angels?) Actually, both my persona and the real Bryan Farley agree on this Kate Jackson pick.
But I digress… I am pretty sure that LeVar Hurtin is the head BAD Girls Derby photographer.  He has grown into his derby name. When I am at the track, I look to him for guidance. I am still nervous to talk to him, but some day I hope he will be able to yell at me, "Hey so and so, get over here." I would tell you what he will call me, but since my derby name has not been submitted yet, I don't want to prematurely announce it.  Anyone may guess from my references scattered throughout this post. You name it, I will claim it. Or do I claim it and then name it? I don't know, this is my first hit.
As they say in derby, "We make hits that'll rearrange your whole set."  The one above has been called "an epic hit."
Everybody wants to be fast…
Lulu pushing the jammer close to the edge…
I owe a lot to trixie pixie who explained before the bout what she likes in a derby photo. I did not know much about her, except that she was really small. Then on Saturday night, I swear I could hear people chanting, there goes trixie on the hot track, skating like it's hot wax … and the fans continued afterwards. Both sides, but especially those who loved the Green, serenaded "Can't nobody hold me down…  I got to keep on moving."
Or maybe my persona imagined the singing.
Oh well, if you want to see more photos, visit the gallery here.
From,
So and So