JEA NSPA Spring 2013 Leave Your Heart Everywhere
"Life is what happens to you while you're busy making other plans." John Lennon
As one of the local committee members who planned the 2013 Spring JEA National Convention, I was busy creating expectations. After the last convention in San Antonio, I even thought that I would influence the story. Wrong. I did not even control my own computer. I barely managed my own emotions. When the convention ended and people said that they had left their heart in San Francisco, I returned three different times searching for some connection to everyone who had left. I have never felt so disoriented after a convention… AND I LIVE HERE!
John Lennon also wrote "Give Peace a Chance." I was leading a photography workshop down Market Street when this person crossed the street yelling on his megaphone. With his colorful shirt, peace signs, and megaphone, we could make a good photo, but I think he is an example of the first quote more than the second.  Journalism relies on life to "get in the way" of our plans. This year, it happened to me repeatedly the days leading up to the convention. At first I was devastated. Now I am grateful.
Despite the man with the megaphone, we continued with our plan to meet peaceful protesters  Students walked in groups with people from different schools and different states. Students navigated a city that many had never visited… in a part of the city that many tourists avoid. Some students photographed people near a public assistance center; we eventually met peaceful protesters outside the Federal Building.
For what it's worth, by listening, the students gave to the protesters. The protesters attend the vigil nearly every Thursday. Some protester have attended for more than ten years.
Most people walk past the protesters without hearing their story. Listening is a gift. JEA students gave a piece of their heart to our community members. If we begin listening to children, they might get the monkey off their back.
Life can change for the better too. After the peace vigil, our group found a planned union protest a City Hall. We all agreed to investigate.  I could not have planned a protest with a large inflatable rat in front of City Hall! We needed help.
Everybody hurts sometimes, so everyone needs help. I thought I needed help to create the story, but I finally realized that the story was about needing help. We have an organization that supports each other. Sometimes we do so buy reminding each other to dance in the streets, or we leave hearts everywhere we go so that others can access the support later.
When someone leaves their burrito at the restaurant, another speaker retrieves it, names it, and brings it into the photo booth. The burrito is NOT a prop… not sure about all the other pieces of clothes.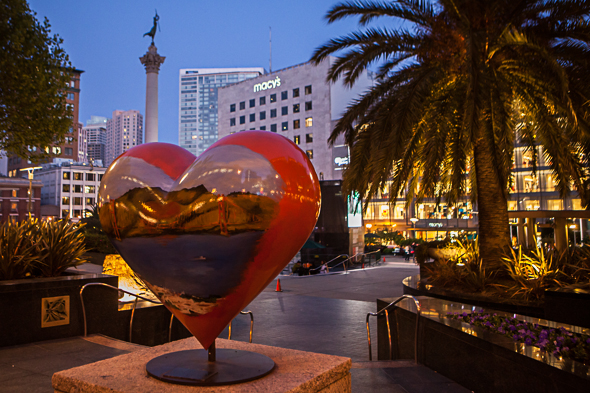 If I wanted to tell a story about leaving my heart in San Francisco, it would be easy. Since my computer has been infected recently, I do not really trust many sources, but I keep checking wikipedia and nothing changes, so let's try a quick story.
"Once Upon A Time" … there was an A side to Tony Bennett's I Left My Heart in San Francisco, according to Wikipedia today.  I Left My Heart in San Francisco also happened to be released on February 2, 1962 forty years to the day before I married my current wife on 2/2/02.  (This sounds like an Alanis Morissette song waiting to write itself.)
I don't want to get Tangled Up In Blue, but it might be time to make like Blue Oyster Cult and play more B-Sides… or to think about Boston. Freeze Frame?
For those of us who are left behind at every convention, I have been listening to a new song by Phillip Phillips called Gone, Gone, Gone.  The song commits to loving long after everyone is gone. The heart continues to beat like a drum.  This was my thirteenth consecutive convention. My first JEA/NSPA National Convention was in 2006 when the semiannual national convention was held in San Francisco.  I have become much more grateful.
This convention, though about peace and love, is also about technology. There is a hint on the van and the black heart below. Whether sandia (Spanish for watermelon) has become involved with online journalism, we may not know, however we should be warned. I love the rock band Heart and the album Dog and Butterfly, but these terms mean something different in 2013 Silicon Valley. Hearts are small, dogs are invisible and the "butterfly effect" (or chaos theory) could disrupt our credibility. I might learn that mine has been harmed already.
I will conclude with another John Lennon quote, because in the end, the response must be similar. "We're playing those mind games, together. Pushing the barriers. Planting seeds. Love is the answer, and you know that for sure."